Click play below to see a slideshow from our July 2015 Summer Camp!  (If using a mobile device, click here.)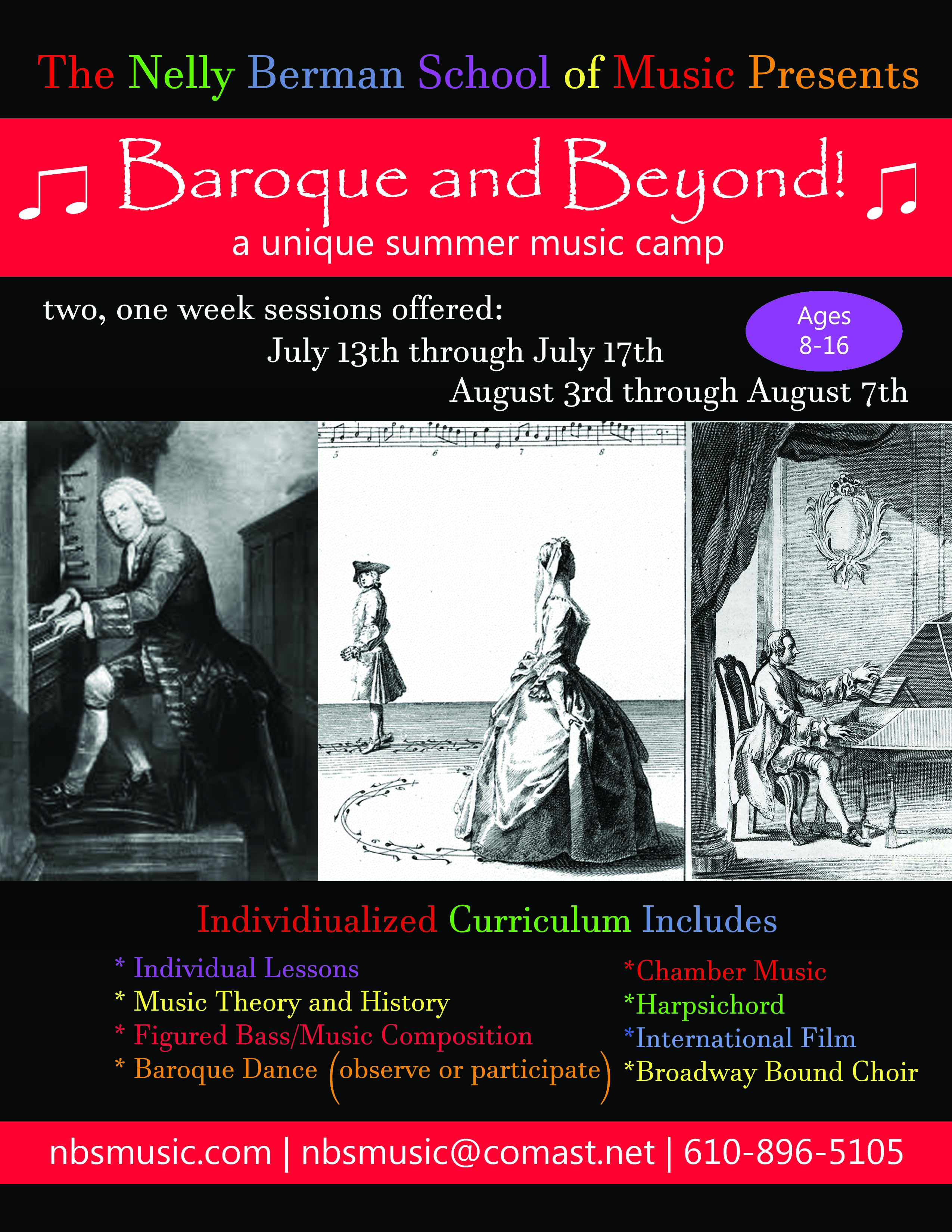 Week 1: Monday July 13th- Friday July 17th
Week 2: Monday August 3rd- Friday August 7th
The week long summer camp at The Nelly Berman School of Music, for students ages 8-16, offers an unusually high-quality, personalized program for up to 20 students, providing unparalleled one-on-one attention. The emphasis is on the quality of instruction, the results of which can be heard by the parents and friends themselves at the concert on end of camp concert on the final Friday of each week. Students taking both weeks of camp will have the opportunity to participate in different chamber groups, learn more repertoire, and go more in depth in the course work offered.
Classes Offered
Introduction to Baroque Music History
Introduction to Baroque Dance with a baroque dance specialist (either participate or observe)
Composition using figured bass and improvisation
Baroque Performance Practice in Keyboard, String and Wind Instruments
Chamber Music for keyboard (including harpsichord), strings, winds, and four-hand duets
Capture the Flag and other outside activities
Broadway Tunes
Lunch and Movies
Course Description
The Baroque era was an exciting time in musical history. Composers produced music that was full of fantasy, whimsy, and deep emotion.
Instrumentalists and vocalists alike reached new levels of virtuosity and expressiveness. The rhythms of the dance pervaded all aspects of musical life, from the grace and elegance of the French court dances, to the fiery audacity of the Southern Italian Tarantella, and Spanish Folia. This 5 day course explores Baroque music, instruments, dance, theory, and history. Students will investigate the music of the Baroque by playing solo and chamber music, practicing baroque improvisation, trying out baroque dance steps, and asking the same questions about music-making that Baroque musicians asked: Is it better to amaze or move the audience? What is good taste in music and how do you know if you have it? How is music similar to or different from other artistic disciplines?
In each lesson, students will learn about the colorful history surrounding baroque musical life including the musical orphans of Naples (boys) and Venice (girls), and illustrations of folk music, stories, and nature in sound form. Students will learn to identify defining characteristics of baroque music, understand and practice the art of basso continuo (music improvised from a bass-line), and tell the difference between national styles of music making in the baroque era. By the end of the course we will ask ourselves how knowledge of the Baroque era can affect how we think about and perform music of later eras. After this course, students will be able to play Bach's music with a new sense of historical context, to more fully understand Beethoven's love of Handel and C.P.E. Bach, and to trace the influence of baroque musical idioms from Brahms and Mendelssohn to the present day.
Schedule
8:45-9:00 Check In
9:00-10:00 Dance Class (observation optional)/Baroque History, Theory and Figured Bass
10:00-10:15 BREAK
10:15-11:15 Dance Class (observation optional)/Baroque History, Theory and Figured Bass
11:15-11:30 Ice Cream Break
11:30-12:15 Outside Activity
12:15-1:00 Lunch and Movie
1:00-1:15 Prepare Instruments
1:15-2:15 Chamber or Show Choir for younger students
2:15-2:30 Break
2:30-3:30 Chamber music
Instruments Offered: piano, violin, viola, cello, voice, trumpet, trombone, french horn, tuba, flute, clarinet, oboe, and drums.
Individual Lessons: Each student will receive two, 30 minute lessons. Additional lessons are available upon request (additional fees apply). A full listing of NBS Faculty can be found here.
Chamber Music: The camp offers a rich tradition of chamber music, including duets, trios, quartets, and small string orchestras.
Try a New Instrument: Summer Camp is the perfect opportunity to try a new lessons. You can use your two, 30 minute lessons to try a new instrument, or purchase an additional lesson or two to try a new instrument!
Summer Camp 2015 Registration Form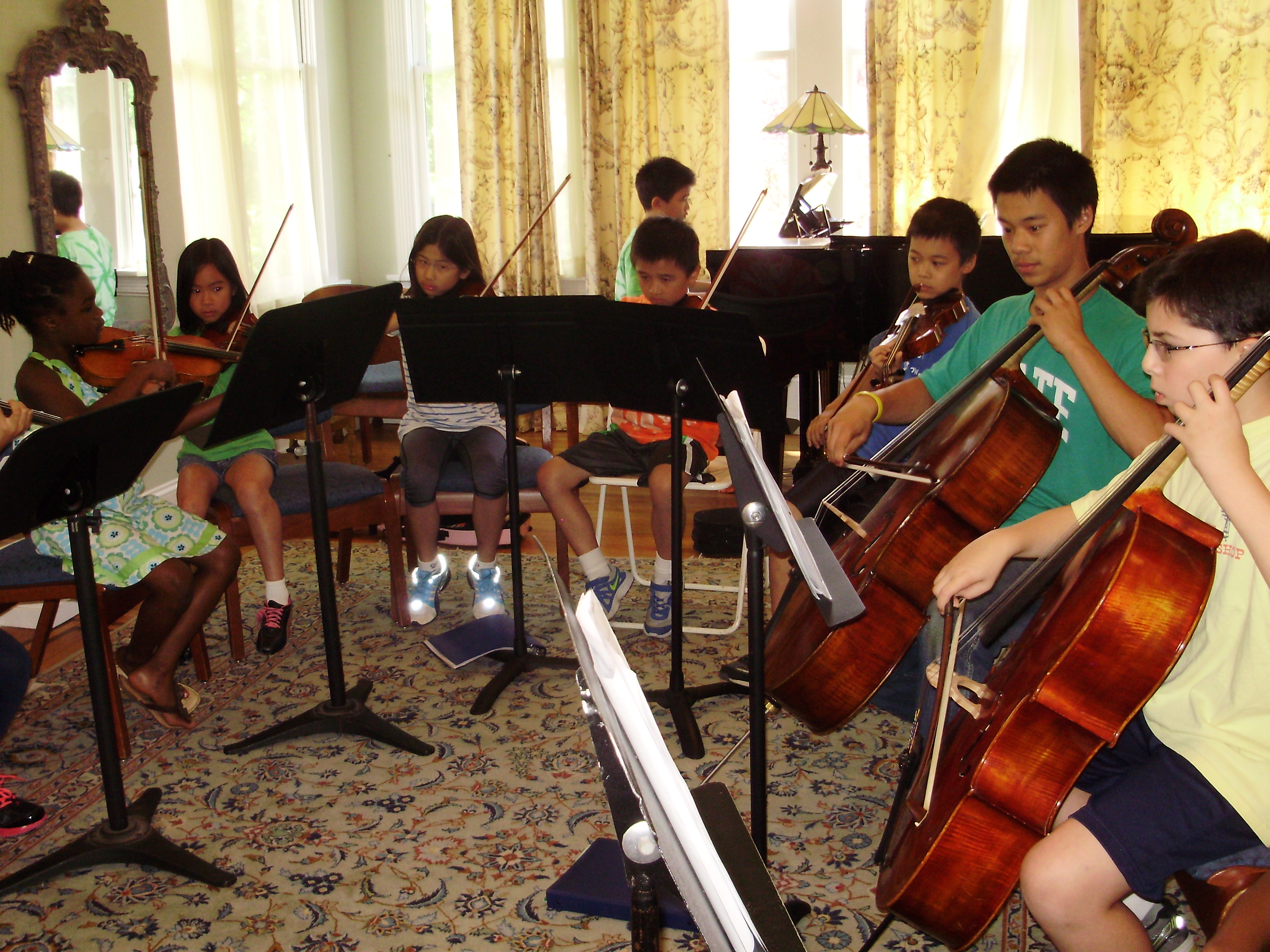 Whether you look to have an intensive music experience or a little mix of arts and music, this is the place for you. Our faculty and exquisite programs provide each student with a memorable experience that is proven in their progress. Our summer camps draw students from the Mainline, Haverford, Bryn Mawr, Philadelphia, Lower Merion Township, Delaware County, Bucks Count, Ardmore, Radnor, and as far as Virginia, North Carolina, and South Carolina.