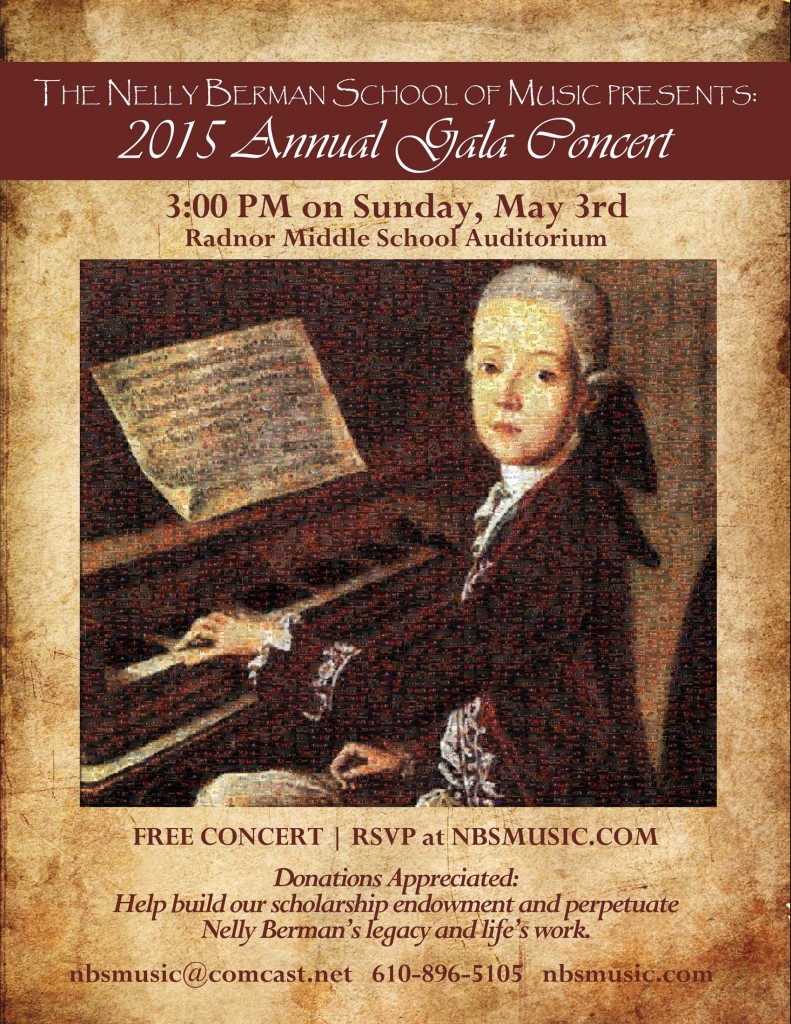 The Nelly Berman School of Music will present a free community concert of award-winning students on Sunday, May 3 at 3:00 PM in the Radnor Middle School Auditorium. The students have performed as soloists with orchestras including the Philadelphia Orchestra, Lansdowne, Landsdale (SPSO), Old York, Ambler, Pottstown, Delaware, New Jersey Pops, Warminster, and Olney orchestras. Other awards include winning the MTNA Pennsylvania State Competition, the International Chopin Competition, and performances at Carnegie Hall and the Curtis Institute of Music among many others. The concert will present works by Beethoven, Mendelssohn,Chopin, Liszt, Scriabin, Ravel, Debussy, and feature piano, violin, viola, cello, voice, woodwind and brass performers.
Many of the performers are financially supported through the Nelly Berman School's scholarship program, the NBSCMI, a 501 (c) (3) non-profit institute, which allows these dedicated and deserving students two lessons per week with their teachers as well as weekly chamber music classes. This training makes it possible for students to delve more profoundly into the intricate texture of music and achieve the highest level of technical and emotional interpretation possible with many hours of daily practice. Some of the students practice up to five hours a day, even from the age of eight. Their hard work and achievement in classical music has made a profound impact in the greater Philadelphia Community and has touched the hearts of audiences who have heard them. If you would like to donate to the endowment that supports musical excellence in young people, please read more about us here or contact us at nbsmusic@comast.net or 610-896-5105.
To RSVP please fill out the form below.