The application and guidlines will go live on Wednesday, October 26th.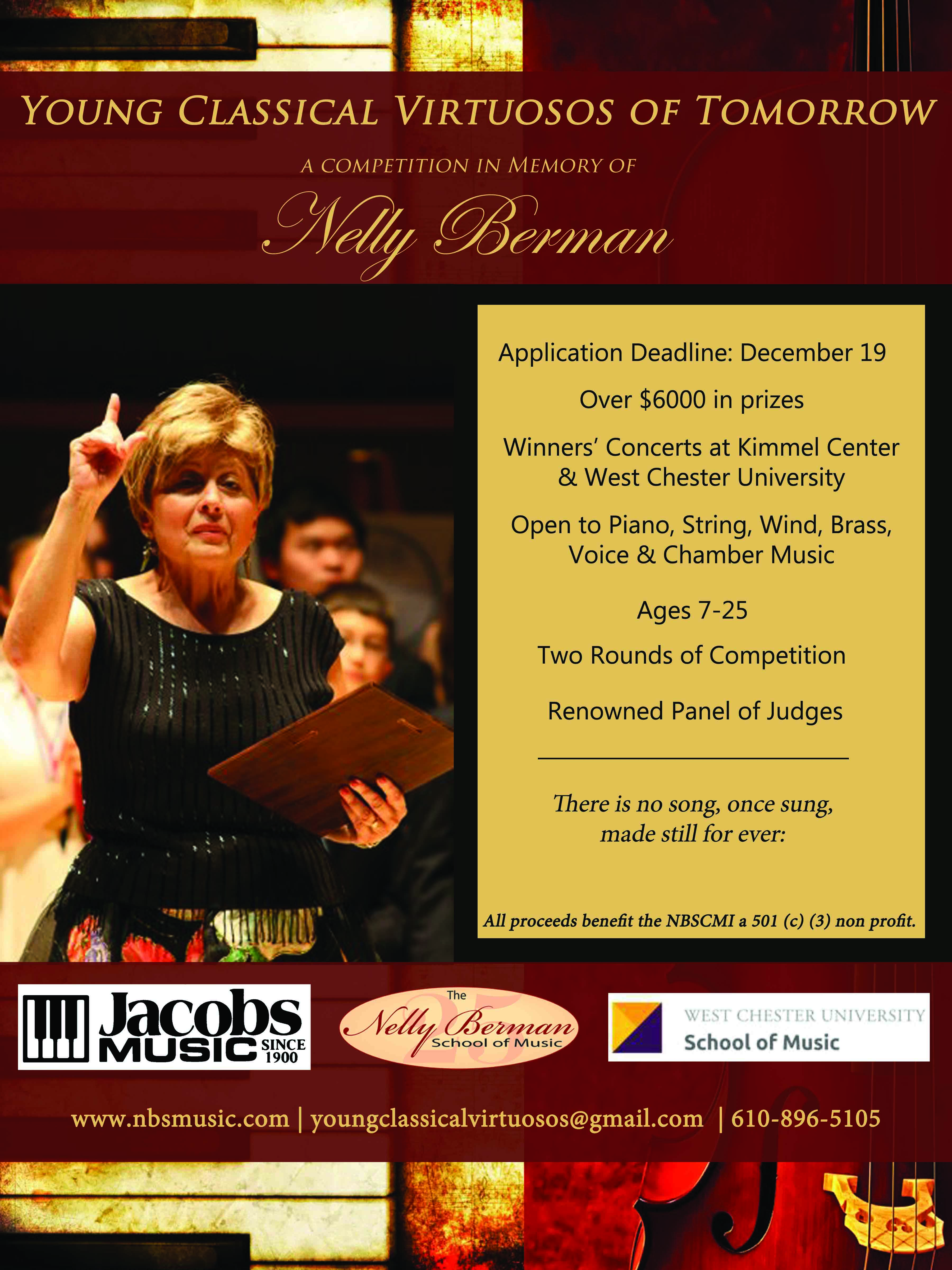 Mission Statement: 
The NBS Classical Music Institute, a 501 ( c) (3) non-profit with a mission to promote serious classical music concerts and competitions in the Philadelphia area, will  be presenting "Young Classical Virtuosos of Tomorrow," a national festival and competition in memorial of its founder, the late Nelly Berman. Nelly immigrated from Odessa, USSR in 1976.  This event, with concerts at the Kimmel Center, West Chester University and Radnor Middle School, and over $6,000 in prizes will draw students from across the nation.  The jury will be comprised of members from the Philadelphia Orchestra, Temple University Faculty, West Chester University Faculty, Tulane University Faculty, Peabody Conservatory Faculty and Long Island University Faculty, as well as other international performing artists.
We need young classical music performers now more than ever. Just like when the 23 year old American pianist Van Cliburn went to Moscow in the '60's to win the first prize at the monumental Tchaikovsky piano competition and with his passionate playing helped thaw the Cold War between the Soviet Union and the USA — young musicians of the tumultuous and pivotal years 2016-2017 can help shape international debate with high ideals for future generations.
The Nelly Berman Memorial "Classical Music Young Virtuosos of Tomorrow" competition, established in 2010, sees its important national place as a cultural emissary for the transformative power of classical music; it provides a platform for young musicians to reach and thaw the hearts of old and young alike with their playing and, through classical music, illuminate some of the highest human virtues.
In addition to recognizing Nelly's achievements, institutionalizing her life's work in bringing to the US the Russian method of teaching classical music to children at the school she founded 40 years ago, The Nelly Berman School of Music, and honoring her founding of the "Young Classical Virtuosos of Tomorrow" competition in 2010, which brought over 300 students from across the United States,  the competition will bring attention to the struggle she had with her heart condition since the age of 3.  The top 15 students in the Platinum division will be chosen to play at a large fundraising event for Children's Hospital of Philadelphia, where their playing can make a difference to the lives of many sick children with heart disease.