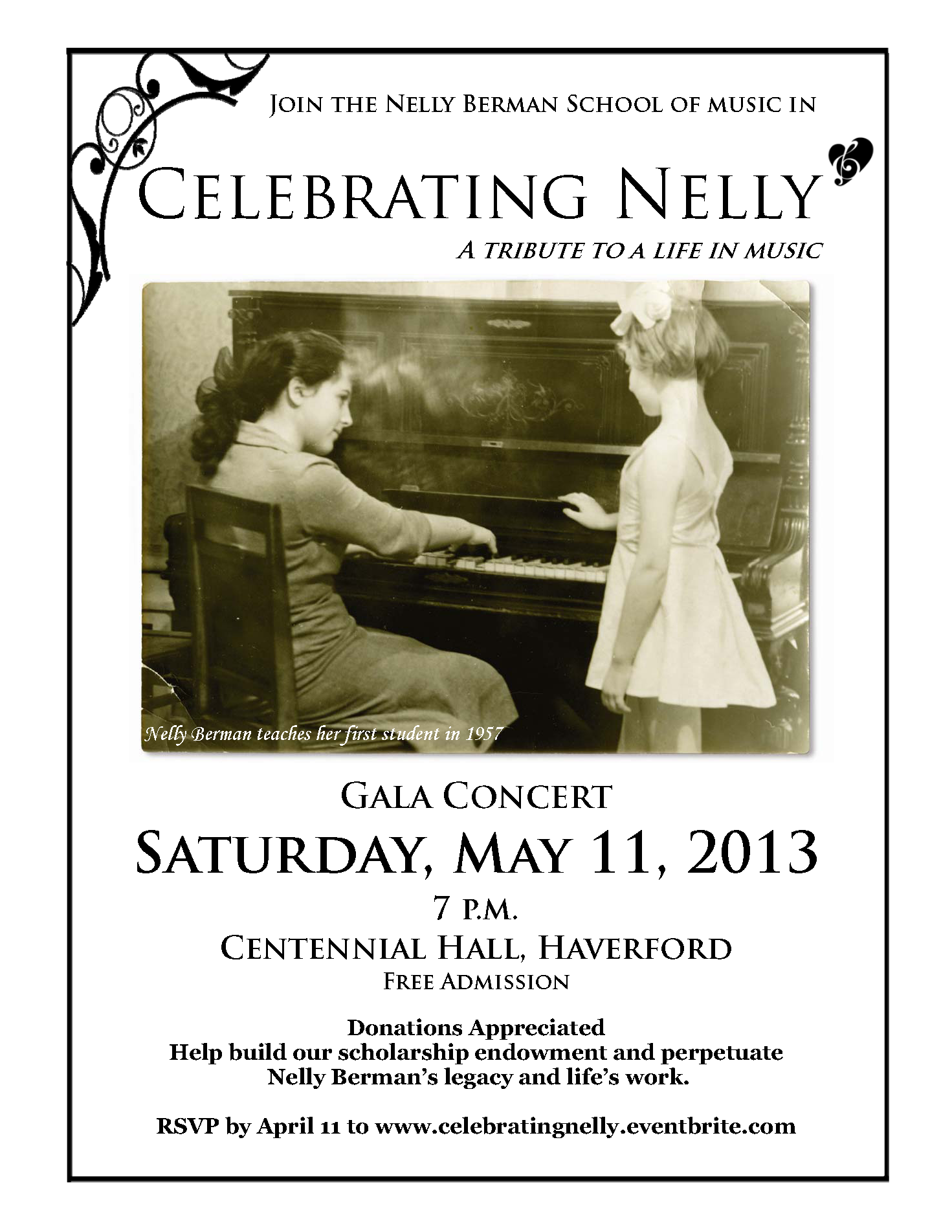 The Nelly Berman School of Music welcomes you to join us on Saturday, May 11, as we pay tribute to Nelly for her remarkable achievements throughout the past 30 years with the "Celebrating Nelly" Gala Concert at 7 p.m. at Centennial Hall in Haverford.  We hope to fill all 650 seats with current students, alumni and friends.  In the spirit of her strong belief that classical music should be accessible to all, Nelly has requested that this concert be free-of-charge.
Twenty-four pianists will perform 24 Preludes by Chopin, and more than 30 students will showcase their remarkable skills on violin, viola, cello, flute, clarinet, trumpet, voice and chamber music. Students will be playing from the heart as a token of their appreciation and admiration for the opportunities that Nelly Berman has created for them.
Russian pianist Nelly Berman came to the United States with two young children and $17 in her pocket. She went on to create a unique classical music school in the heart of the Main Line in Haverford, which has become a beacon for high achievement in music education. Today, the school has more than 350 students from the Main Line and surrounding areas and 45 faculty members.    The school's faculty has studied at some of the finest conservatories throughout Russia, Europe and the U.S. Many have major solo  careers and are invited to perform all over the world with premiere conductors and orchestras.
Nelly's lasting legacy to the Philadelphia music community is the Nelly Berman School Classical Music Institute, a 501 (c) (3) non-profit organization that she created to support gifted and hardworking students through a merit-based scholarship program. Scholarship recipients have won top prizes in local and national competitions, performed as soloists with numerous orchestras including the Philadelphia Orchestra, and appeared in music festivals in USA, Italy, France, Monaco, Israel, Russia, Germany, Tanglewood, and the Van Cliburn Institute, among others. They have performed at Carnegie Hall and The Kimmel Center, as well as on NPR's "From the TOP".
In the spirit of American philanthropy, which has kept musical institutions vibrant, Nelly is calling the Philadelphia community to support her vision.
Click here to read more about this event
Click here to RSVP and get tickets
"Celebrating Nelly: a Tribute to a Life in Music" is sponsored in part by the following: