The Nelly Berman School of Mu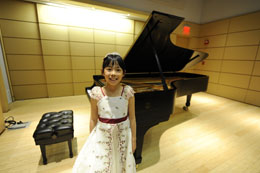 sic would like to send a big congratulations to Melody Yu, age 11, who has been selected to compete in the Final round of the Greenfield Competition of the Philadelphia Orchestra.  This is one of the most prestigious competions in the world, and was originally formed as the Philadelphia Orchestra Student Concerto Competition in  1933 under Leopold Stokowski. She will compete on Tuesday, March 18th, beginning at 2PM at Verizon Hall in the Kimmel Center for the Performing Arts in center city Philadelphia.  More information can be found here: http://www.philorch.org/albert-m-greenfield-student-competition.  This competition is free and open to the general public and students ages 8 and above.
Melody has been a student at the Nelly Berman School since age 5, when she first began studying here with Nelly Berman.  Since her studies with Nelly, she has taken lessons with Dr. Igor Resnianski, and is now a student of Anna Kislytsina and Maxim Mogilevsky. She takes two, one hour lesson per week to supplement her four-to-eight-hour daily practice schedule because of her status as a scholarship recipient
"People often ask me how long I play piano each day. I don't think the length of the practice would make huge difference. The key point is how much I can improve during the practice, even though I do play eight hours daily in the summer and four hours during the school year," Melody said. "Music is a part of me, as are my joyfulness, tears, hopes and dreams. My teachers, starting with Mrs. Nelly Berman, taught me that every piece of music I play is really an inside story of a composer's life. I often feel blessed that I am able to use the sound that I create to share and interpret those great composers' dreams and imaginations, sorrows and fears." In addition to her outstanding piano abilities and writing abilities, Melody often calls the NBS Office on her own to schedule lessons and book accompanists for competitions!
If you would like to hear Melody perform before her March 18th appearance in the Greenfield Finals,  you can see her perform as a soloist with the Ambler Symphony in their Menges Scholarship Competition Winner Concert on Sunday, February 23, 3:00 PM at Upper Dublin Lutheran Church, 411 Susquehanna Rd, Ambler, PA 19002. For more information on that concert click here: http://amblersymphony.org/concerts/.  Melody will also perform in several concerts this spring/summer at the Nelly Berman School with dates TBA.