September 6th, 2016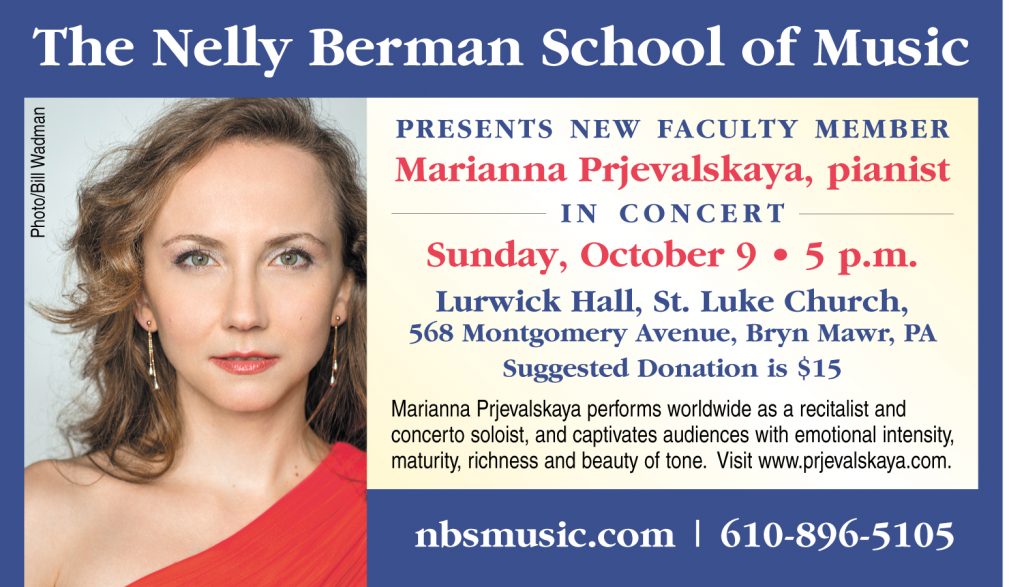 The Nelly Berman School of Music is pleased to announce pianist Marianna Prjevalskaya as our artist in residence beginning in October 2016.  Her position at NBS will include coaching advanced students by special appointment, presenting masterclasses, and giving performances.  Praised by critics as "a grand pianist" (Il Cittadino, Italy) and a "master of piano" (Music Magazine 'Auditorium', Korea), Marianna Prjevalskaya performs worldwide as a recitalist and concerto soloist — she captivates audiences with emotional intensity, maturity, richness and beauty of tone.  The Nelly Berman School will be presenting Ms. Prjevalskaya in recital on Sunday, October 9th at 5PM.  The concert will take place at Lurwick Hall, St Luke Church, Bryn Mawr PA with a suggested donation of $15 for adults and $10 for students.  
Since her solo debut with orchestra at age nine, Ms. Prjevalskaya has appeared with more than 15 orchestras, including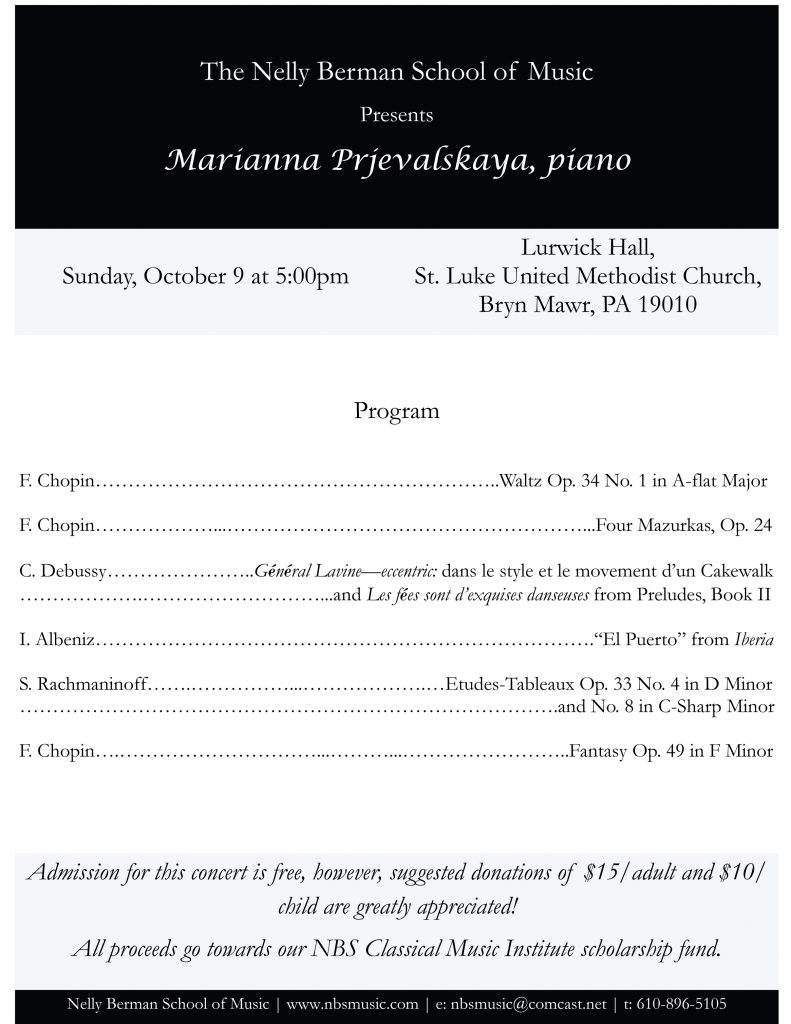 Cincinnati Symphony Orchestra, National Lithuanian Symphony Orchestra, Rzeszow Philharmonic Orchestra, Korean Symphony Orchestra, Granada Symphony Orchestra, Valencia Symphony Orchestra, Galicia Symphony Orchestra, Panama Symphony Orchestra, Paderewski Pomeranian Philharmonic Orchestra, Sendai Philharmonic Orchestra, Takamatsu Symphony Orchestra, and collaborated with conductors such as Ion Marin, Roberto Trevino, Eduard Zilberkant, Stamatia Karampini, Tadeusz Wojciechowski, Bogdan Oledzki, Kazafumi Yamashita, James Ross, Alfons Reverte and Max Bragado.
She has also won top prizes at upwards of 20 international piano competitions, among them, the 2014 New Orleans International Piano Competition, 2013 World Piano Competition in Cincinnati, the 2013 European Piano Competition in Normandy, the 2012 Panama International Piano Competition, the 2011 Jaén International Piano Competition in Spain, the 2010 Sendai International Piano Competition in Japan, the 2010 Takamatsu International Piano Competition, the 2008 José Iturbi International Piano Competition in Valencia, the 2008 Seoul International Piano Competition, the 2007 Paderewski International Piano Competition in Poland. Other prizes include at Maria Canals International Piano Competition in Barcelona, Ferrol International Piano Competition, José Roca International Piano Competition in Valencia, Young Concert Artists International Auditions in New York, the Kosciuszko Foundation Chopin Piano Competition in New York, Beethoven Piano Competition of the Beethoven Society of Europe in London, Dudley International Piano Competition in United Kingdom, and Marisa Montiel Piano Competition in Linares in Spain, where she also received a Special Prize for Musicality at the age of 14.
You can listen to some of her extraordinary playing here: http://www.prjevalskaya.com/media_en.html