Each year, the Nelly Berman School p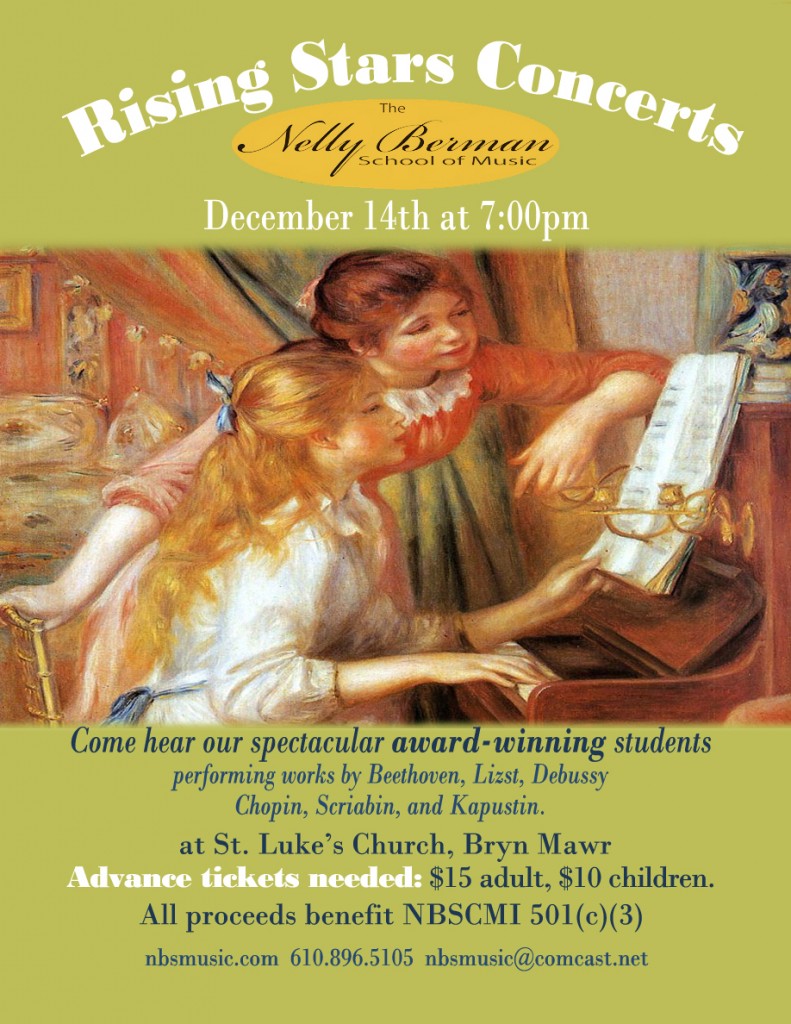 resents a December "Rising Stars" scholarship fundraising concert series, where students are able to showcase the incredibly beautiful music they have mastered, sharing their passion and hard work with family and friends. These concerts occur over three weekends, and present over 100 students, who have been nominated by their teachers for their hard work and achievement.  On Saturday, December 14th, at 7PM at St. Luke's Church, Bryn Mawr, the Nelly Berman School of Music will present a concert featuring some of our most highly accomplished and award winning scholarship students. The concert will feature pieces by Beethoven, Chopin, Brahms, Liszt, Debussy, Scriabin, and Kapustin.
The performers will include: Ethan Lee, a previous winner of the Philadelphia Orchestra's Greenfield competition; Alex Wu, a cellist who has appeared as soloist with the Bucks County, Ambler and Kennett Symphony Orchestras; Maria Zhdankina, a pianist who won 2nd prize in the 2013 Tri County Chamber Music Competition together with Alex Wu (the duo will play a Beethoven Sonata on this concert); and Jordyn Hurly,  who comes to NBS all the way from South Africa with accolades that include appearances as soloist with the Johannesburg Symphony and Philharmonic Orchestras and the title of overall winner of the 2009 Afrikaans Kunswedstryd for all ages.  Also included on the program is an 11 year old Melody Yu who sometimes practices up to 8 hours a day and says that it is not hard! "Music has been a part of me, as are my joyfulness, tears, hopes and dreams," wrote Melody to Nelly Berman this past spring, thanking her for being her first special teacher.
All proceeds of the concert will benefit the Nelly Berman School Classical Music Institute, a 501 (c) (3) non-profit corporation, which has has provided merit based scholarships since 1995 to support lessons and chamber group participation for gifted young musicians at the Nelly Berman School.  The school's unique approach of inspiring young people's creativity, intellect and hearts, of giving them the opportunity to study with world class musicians, and of nourishing a student body rich in skill and talent, has built NBS into one of the premier private music schools in the region. Many of the students have won local, national, and international competitions and have performed for audiences at Carnegie Hall, the Kimmel Center and throughout Europe. The NBSCMI is one of the few institutions in our region that provides students of music with scholarships.
To purchase tickets, please e-mail us at nbsmusic@comcast.net or call as at 610-896-5105. To read more about the NBSCMI or to make a donation please visit: http://www.nbsmusic.com/nbs-classical-music-institute/#unique-identifier