March 4th, 2016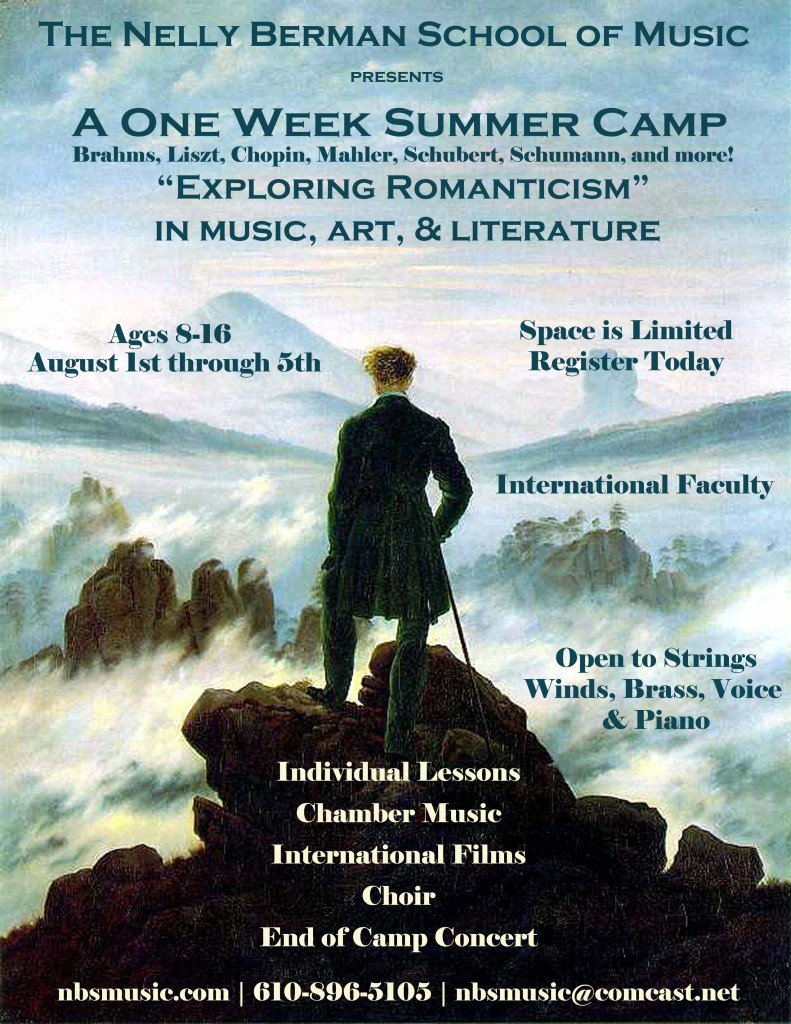 Dates:
Monday, August 1st through Friday, August 5th.
Camp Description:
The Romantic era was an exciting time in musical history. Composers produced music that was full of feeling and individuality. The poet William Wordsworth described writing of the era as poetry that should begin as "the spontaneous overflow of powerful feelings" and the composer and great symphonist, Gustav Mahler said of the music: "if a composer could say what he had to say in words, he would not compose music." This 5 day music camp explores romantic music, literature, and art. Students ages 8 through 16 (split into two age groups, 8-11 and 12-16) will investigate the Romantic era by playing solo and chamber music, learning about art through hands-on projects, reviewing romantic era literature, and asking the same questions about music-making that Romantic era musicians asked: How does the music move me? How do I express my feelings through the composition and expand upon compositional forms? How is music similar to or different from other artistic disciplines?
In each class, students will learn about the colorful history surrounding Romantic era life.  The vivacious fire of the French Revolution –the development of the individual and breakdown of the preexisting socioeconomic hierarchical structures. The beginning of the industrial era. The glorification of nature, the absurd, beautiful and sad.  The exploration of the emotions of glory, majesty, apprehension, fright, and awe.  Students will learn to identify how each composer, artist, and writers expressed their individual feelings and thoughts.
By the end of the camp students will ask themselves how knowledge of the romantic era ideas can help them as performers and artists. Students will be able to play the music of Brahms, Chopin, Liszt, Schubert and Schumann with a new sense of historical context, to more fully understand what emotional and individualistic ideas shaped their compositions, and in turn share that with audiences. Prior to camp, age and level appropriate pieces will be assigned for each individual student, following an audition with the director. Students will see international movies and documentaries during lunch, learn to dance a Mazurka and Polonaise, analyze poems by Lord Byron, Sir William Blake and George Sand, learn excerpts from Lewis Carroll's Alice in Wonderland, draw in the style of Delacroix and Goya. Chamber Music is assigned one month in advance based on audition.
Camp Schedule:
8:45-3:45 Daily
*For the morning classes, students will be separated into two age groups, ages 8-11 and 12-16.   Individual lessons are scheduled after camp hours.
8:45-9:00: Check In
9:00-10:00:  Romantic Art, Literature, and Dance Class (observation optional)* or  History of Romantic Music
10:00-10:15: BREAK
10:15-11:15: History of Romantic Music* or Romantic Art, Literature, and Dance Class (observation optional)
11:15-11:30: Ice Cream Break
11:30-12:15: Outside Activity
12:15-1:00: Lunch and Movie
1:00-1:15: Prepare Instruments
1:15-2:15: Chamber Groups or Choir
2:15-2:30: Break
2:30-3:30: Chamber Groups
3:30-3:45: Check Out/Dismissal
Friday Family Concert
Our week-long camp will culminate in a concert featuring the Choir and Chamber Groups. The concert will be held at 2PM on Friday.
Material covered will include:
Composers*
Frederic Chopin
Franz Liszt
Robert Schumann
Gustav Mahler
Johannes Brahms
Felix Mendelssohn
Hector Berlioz
Pyotr Tchaikovsky
Sergei Rachmaninoff
Artists*
Eugene Delacroix
J. M. W. Turner
Caspar David Friedrich
Thomas Gainsborough
Ivan Aivazovsky
Writers*
Sir William Blake
Lewis Carroll
Percy Bysshe Shelley
Lord Tennyson
William Wordsworth
George Sand
Alexandr Pushkin
Mary Shelley
Lord Byron
Alfred De Musset
*material covered will be different according to age group
Instruments Offered: piano, violin, viola, cello, voice, trumpet, trombone, french horn, tuba, flute, clarinet, oboe, and drums.
Individual Lessons: Each student will receive two, 30 minute lessons. Additional lessons are available upon request (additional fees apply). A full listing of NBS Faculty can be found here.
Chamber Music: The camp offers a rich tradition of chamber music, including duets, trios, quartets, and small string orchestras.
Try a New Instrument: Summer Camp is the perfect opportunity to try a new lessons. You can use your two, 30 minute lessons to try a new instrument, or purchase an additional lesson or two to try a new instrument!
Pictures and video from last summer's camp: "Baroque and Beyond!"