"Spotlight on Award-Winning Students" a Free Gala Concert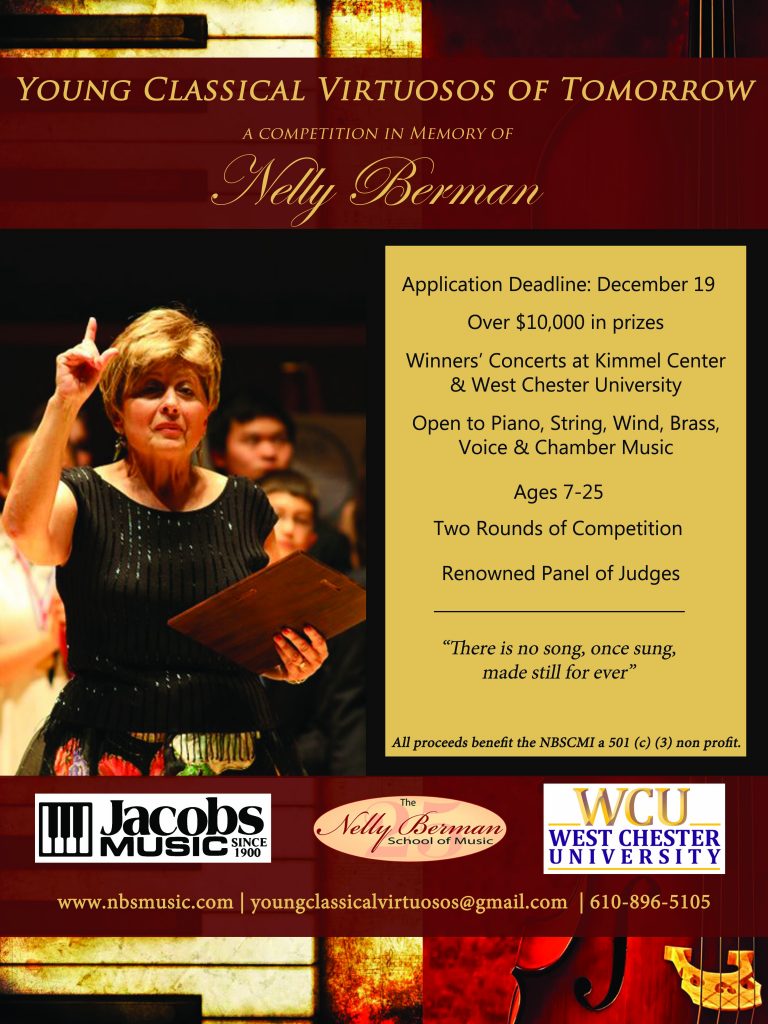 Application deadline is December 19th, 2016.  Click Here To Apply
Click here to download guidelines.
Please direct all questions to youngclassicalvirtuosos@gmail.com
Over $10,000 in prizes and concerts at the Kimmel Center, West Chester University, and more!
Mission: The NBS Classical Music Institute, a 501(c)(3) nonprofit with a mission to promote serious classical music concerts and competitions in the Philadelphia area, will be presenting "Young Classical Virtuosos of Tomorrow," a national competition as a memorial to its founder, Nelly Berman.  It will draw students from across the nation, and winners at various levels will be performing in concerts at Radnor Middle School, West Chester University, and the Kimmel Center; over $10,000 in prizes will be awarded.  The jury will be members of the Philadelphia Orchestra and New York Philharmonic, international performing artists, and faculty from West Chester, Manhattan School of Music,  Temple, Tulane, Long Island Universities, and the Peabody Institute of Johns Hopkins University.
We need young classical music performers now more than ever. Just like when the 23 year old American pianist Van Cliburn went to Moscow in the '60's to win first prize at the monumental Tchaikovsky piano competition and with his passionate playing helped thaw the Cold War between the Soviet Union and the US — young musicians of the tumultuous and pivotal years 2016-2017 can help shape international debate with high ideals for future generations through their likewise memorable performance.
The Nelly Berman Memorial "Classical Music Young Virtuosos of Tomorrow" competition, established in 2010, sees its important national place as a cultural emissary for the transformative power of classical music.  It provides a platform for young musicians to reach the hearts of old and young alike with their playing and, through classical music, illuminate the highest human virtues.
Nelly Berman's whole life exemplified her belief in the transformative power of classical music and her visionary ideas of music education. As an emigrant from Odessa, USSR in 1976 Nelly came to the US with only $17 to her name and two children.  She struggled with congenital heart disease since the age of 3 but went on to bring the Russian method of teaching to thousands of children in the US, where she founded the Nelly Berman School of Music. In 1995, Nelly wanted to further classical music in the US, and she founded the nonprofit NBS Classical Music Institute, with a mission to provide merit based scholarships to students as well as to bring high level classical music concerts to the community. In 2010, she wanted to reach even more children around the nation, and she founded the "Young Classical Virtuosos of Tomorrow," which brought over 300 students from across the United States to the greater Philadelphia area.
This year's revival of the "Young Classical Virtuosos of Tomorrow" as the Nelly Berman Memorial Competition will honor and institutionalize her visionary work in music education.  It will also provide a philanthropic means of recognizing her lifelong struggle with heart disease.  The competition will draw hundreds of students from across the United States and provide several concerts by extraordinary young musicians to the Greater Philadelphia Community while giving a direct opportunity for young musicians to make a difference in the lives of others. The top 15 students in the Platinum division will be chosen to play at a large fundraising event for Children's Hospital of Philadelphia, where their playing can    make a difference to the lives of many sick children with heart disease.
Judges Will Include:
Piano

Timothy Blair (piano) – Dean of Fine Arts and Communication at West Chester University

Faina Lushtak (piano) – Chair of the Piano Department at Tulane University and judge at many international competitions, including the Gina Bachauer and Cleveland International Piano Competitions

Marianna Prjevalskaya (piano) – Gold medalist at over 20 international piano competitions, including the World Piano Competition in Cincinnati, OH, and judge at the New Orleans International Piano Competition

Jack Moore – Conductor, Ambler Symphony and WRTI Classical Radio Host.

Eduard Schmieder (strings/chamber) – Head of the Violin Department at Temple University — Conductor of iPalpiti Festival Orchestra in Los Angeles

Paul Arnold (strings/chamber) – Violinist with Philadelphia Orchestra

Ovidiu Marinescu (strings/chamber) – International cello soloist/chamber musician and faculty at West Chester University

Sylvia Ahramjian (strings) – International violinist/chamber musician and retired West Chester University Faculty.

Julian Milkis (winds) – International clarinet soloist recently featured by UNESCO, and the only student of Benny Goodman.

Ethan Bensdorf (brass) — 2nd Trumpet at the New York Philharmonic and trumpet faculty at the Manhattan School of Music.

David Blumberg (winds) — International clarinetist and pedagogue.

Dr. Daniel Cherry (brass) ­– Orchestral, solo and chamber Trombonist and faculty at West Chester University.

Jen Creed (voice)– board of directors for the Vocal Institute.

Maria Russo (voice) – Winner of the ARD Competition in 1984.  International Operatic Soprano.

 

 

 

 
Here is a video of the competition in 2010, then called "Young Classical Music Idol."  The name and the structure have since changed but we have the same goals.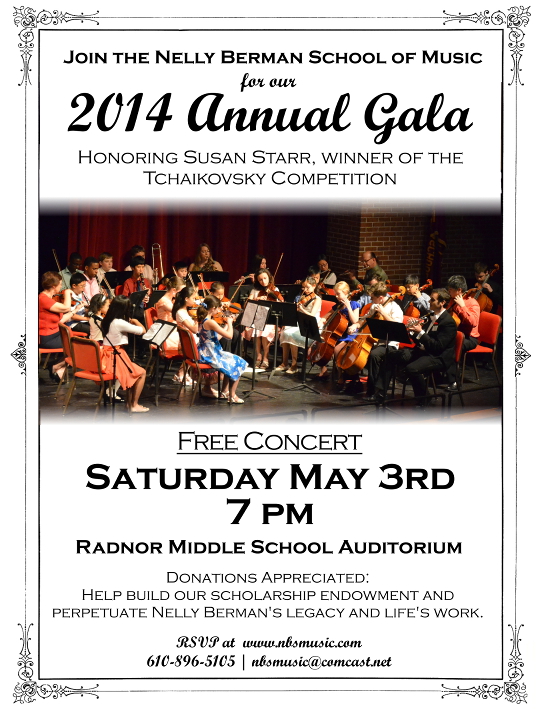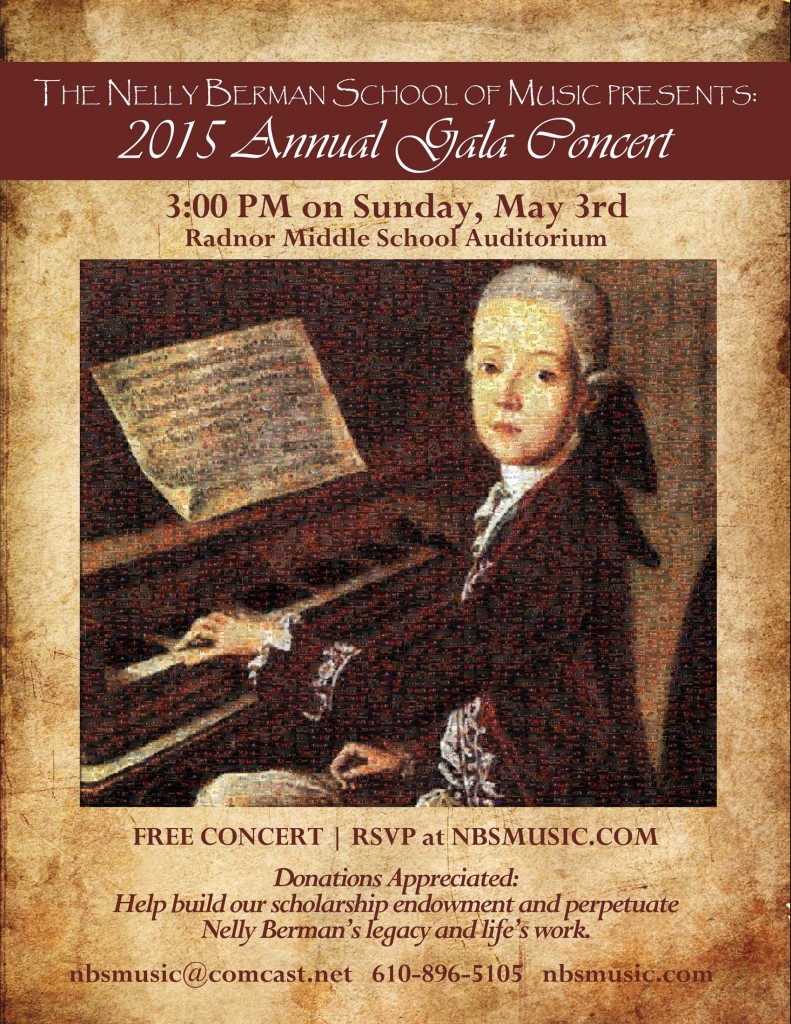 The Nelly Berman School of Music will present a free "Spotlight on Award-Winning Students" Annual Gala Concert on Saturday, May 3rd at 7:00 PM in the Radnor Middle School Auditorium.
The concert will feature a number of outstanding scholarship students, who through their talent and hard work have reached an extremely high level of musical achievement. The Nelly Berman School's scholarship program, the Nelly Berman School Classical Music Institute (NBSCMI), a 501 (c) (3) non-profit institute, allows these dedicated and deserving students extra time with their teachers, making it possible for them to delve more profoundly into the intricate texture of music and achieve the highest level of interpretation possible.
One of these students is Melody Yu, an eleven-year-old pianist who started her extraordinary musical journey at the age of five and a half. At seven, she was already practicing up to three hours a day and winning one competition after another. Now, in March, she has just won the Children's Division of the Philadelphia Orchestra's Concerto Competition as well as the first prize in the Junior Category at the 5th International Chopin Competition. Her exquisite, subtle interpretation of the most complicated piano repertoire, such as Chopin's Andante Spianato and Grande Polonaise, which the audience will hear on May 3, defies her miniature frame. This little girl, looking even younger than her eleven years, makes each melodic phrase soar with beauty. Her little fingers go the speed of light and her body sways with grace and total abandon, as if she is calling to the audience to experience the joy of music-making with her.
Some other students performing are fifteen-year-old Ethan Lee, who was a winner of the 2012 Philadelphia Orchestra Concerto Competition, who will play the third movement of the devilishly difficult Tchaikovsky Piano Concerto. This March he played this concerto as a soloist with the Olney Symphony Orchestra at a concert with two other NBS students, ten-year-old violinist Sara Yamada and thirteen-year-old cellist Alex Wu.
The May 3 concert will also feature the Nelly Berman School Orchestra. These students, ranging in age from six to seventeen, will play the introduction to Monteverdi's opera Orfeo, the first Baroque opera. This performance will feature Leah Bedenko as a vocal soloist, as well as trumpets, trombones, violins, violas, cellos, percussion, flutes, oboes, saxophones and clarinets. The NBS Jazz Improvisation Ensemble "Got the rhythm!" will swing and dazzle!  Alex Gu, a twelve-year-old pianist, is also the captain of his basketball team and the wide receiver on his football team. He recently played at Carnegie Hall as a Gold Prize winner of the Little Mozarts Competition. In fact, every student who will play on May 3 is a high achiever in academics, some are outstanding in sports, and all are playing on a high professional level musically. It is truly a sight to witness the profound effect that classical music has had on these children. It is a great inspiration to see what young people are capable of through hard work, talent, and the financial support of a scholarship program.
The Annual Gala celebration will also honor Susan Starr, a Philadelphia native who rocked the classical music world when at the age of 19 she traveled to Moscow, USSR, during the Cold War, and won the silver medal of the Tchaikovsky Competition, a citadel of Russian and world-level classical music competitions. Susan Starr was Elena Berman-Gantard's (The Director of the Nelly Berman School of Music) first American teacher, when Elena and Nelly Berman arrived to USA from the former Soviet Union, with only $17 in their pocket.  Incredibly, Susan Starr agree to teach Elena for free, understanding that her gift of music lessons would allow a young talented, hard working student a chance to succeed in music. She spent two to three hours per week, for a year, imparting her knowledge, skills and a love for music performance.  It is in this spirit of generously supporting young talented musicians to achieve their highest potential that the Berman family founded NBSCMI, a 510 (c ) (3) scholarship program which continues to nurture and train talented and hard working students, for whom music is a passion.  Please read Elena Berman-Gantard's recollections about Susan Starr below:
"My mother Nelly Berman and I moved to Philadelphia in 1978 when I was fourteen in order for me to study with Susan Starr, a silver medalist of one of the most prestigious music competitions in the world, the Tchaikovsky Competition in Moscow, Russia.
I played for Susan in New Orleans during one of her engagements there with the New Orleans Symphony. I had won a concerto competition that year, and the prize was to perform with the orchestra. As it happened, my performance occurred the evening before Ms. Starr's. The conductor of the orchestra, who must have taken a liking to me, arranged for me to play for her, a gesture that had far-reaching consequences.
The afternoon that I played for Susan was one of the turning points in my life. We were poor Russian Jewish immigrants who came to the United States with seventeen dollars and three suitcases of clothes, music scores, and books. My mother had no job, no money, and we had no piano! Incredibly, after hearing me play, Susan offered to teach me for free, if my mother would bring me to Philadelphia. 
Susan was one of the guardian angels in my life. I came to her house twice a week for a year. My two to three hour lessons with her were emotionally intense. Susan felt music to the core of her body. Her own playing reminded me of Stravinsky's ballet "The Rite of Spring," as she was completely uninhibited, strikingly energetic, passionate and full of adrenaline – a whole whirlwind unleashed in front of my eyes. She was a tornado, whose performance on the piano left me breathless.
In contrast to her powerful emotional presence, she was very petite.  It was incomprehensible to me how her fingers could stretch to encompass the huge chords which was the texture of the Romantic repertoire she excelled in. Nothing was beyond her physical reach, even the monumental passages in the most complicated Rachmaninoff, Tchaikovsky, and Prokofiev concertos.
Her most striking "signature" was to lift her whole leg from the floor in moments of total emotional abandon and strike down with full force so that the sound of the impact was in direct rhythmic solidarity with the piece she was performing. To see her perform this gesture was like experiencing a jolt of electricity.
Working with Susan had a profound effect on me. I felt fully liberated from any self-consciousness I had about the musical expression of my deepest emotions. Her gift to me, as a teacher, was to show me that a musical performance is a deeply personal and liberating force. It can leave the performer completely wiped out and oblivious to the audience's presence. It is in this state of abandon that one has the power to reach far into the souls of those listening and watching, and take them along for the ride."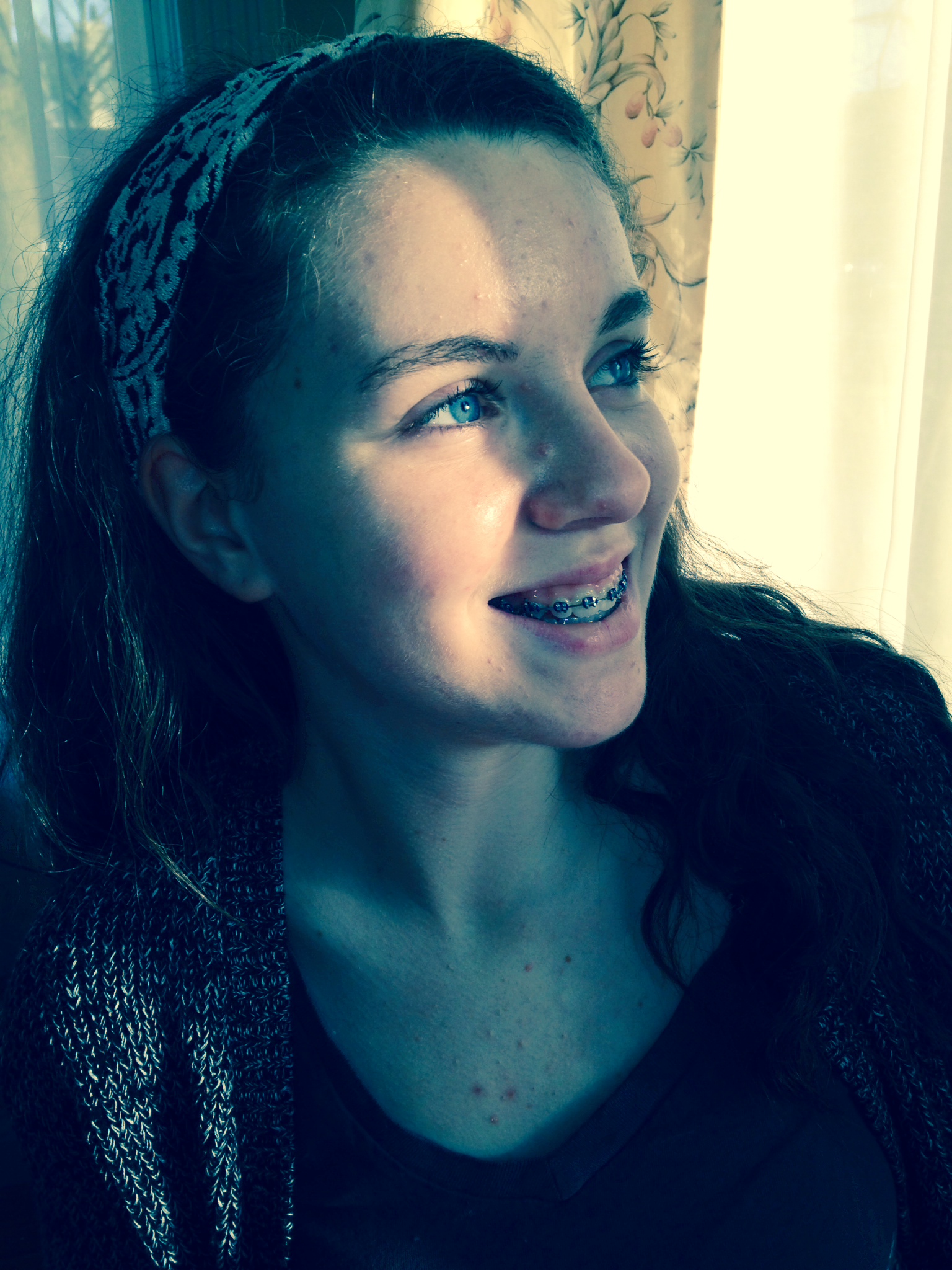 For those who will be able to attend the May 3 concert, the school promises a most exhilarating musical and emotional experience. The students' performances will be extraordinary. Please bring your children, your grandparents, and your friends to hear some of Philadelphia's most achieved young musicians. This will be an unforgettable treat!
To reserve your free tickets for the Nelly Berman School's "Spotlight on Award-Winning Students" Annual Gala Concert or to donate to NBSCMI please visit www.nbsmusic.com or email nbsmusic@comast.net.
Donations appreciated: help build our scholarship endowment, and perpetuate Nelly Berman's legacy and life's work.