Nelly Berman came to the United States from the Soviet Union, where serious study of music was free to talented and hard-working students. This study in regular music schools, not professional schools, consisted of two, one-hour lessons or more per week, as well as chamber music, music history, and other music subjects.  Additionally, students were required to compete 3 times a year in front of a jury for the opportunity to continue to receive free education. They had to play scales and arpeggios, as well as a piece from each of the following Baroque, Classical, and Romantic periods. 

When Nelly came to the United States, she combined the best of the Russian tradition of music education with the American philosophy of education being more inclusive. Nelly's philosophy was not specifically to train professional musicians unless they wanted it more than anything. She passionately wanted to help those children who love music to play on a professional level, regardless of their future professions. Nelly worked tirelessly to raise money for the Nelly Berman School of Music Classical Music Institute (NBSCMI), a 501 (c)(3) not-for-profit, which continues to enrich the lives of so many children, even after her passing. The "Young Classical Virtuosos of 

Tomorrow

" competition was her creation. The Nelly Berman School revived the competition this year in Nelly's memory, and it is now hailed as "one of the top on the east coast" by the judges.
Support Nelly's vision of musical excellence for our children by donating to the NBSCMI, which is sponsoring this competition. Become a philanthropic friend in memory of Nelly and celebrate her life dedicated to empowering all children through the beauty of music.

You can donate by check at:
Young Classical Virtuosos of Tomorrow
C/O Nelly Berman School of Music
461 W Lancaster Ave
Haverford, PA 19041
OR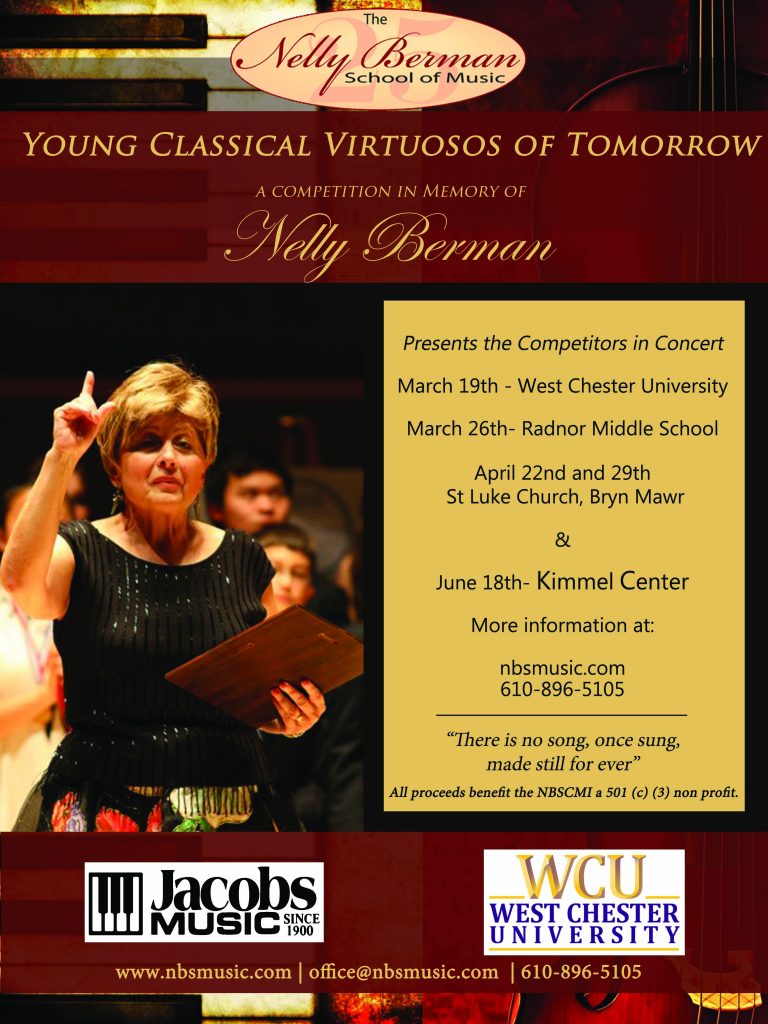 Tickets for all locations except Kimmel Center available by e-mailing office@nbsmusic.com or calling 610-896-5105
Tickets for the Kimmel Center available from April 1st, 2017 at www.kimmelcenter.org
_______________________________________________________________
Concerts at West Chester University Madeline Adler Theater on March 19th at 10:00 AM, 2:00 PM and 6:00 PM
$15 general admission (tickets at the door)
________________________________________________________________
Concert at Radnor Middle School in Wayne, PA on Sunday, March 26th at 3:00 PM
$15 suggested donation (donation at the door)
_________________________________________________________________
Concerts at St. Luke, Bryn Mawr on Saturday, April 22nd, and Saturday, April 29th at 6:00 PM
$15 general admission (tickets at the door)
_________________________________________________________________
Concerts at the Perelman Theater at the Kimmel Center on Sunday, June 18th at 10:00 AM and 3:00 PM
$25 general admission (tickets available at www.kimmelcenter.org after April 1, 2017)
Below are some contestant videos of student winners who will perform at the Kimmel Center