Summer Camps
Announcing the 2018 Summer Music Camps at The Nelly Berman School
Two Unique, One-Week Sessions of Summer Camp
Week 1 – July 16 – 20 – Impressionism and Modernism – $450
There will be a trip to the art museum on Saturday, July 21st for a small additional cost TBA once we have the group size.
Week 2 – July 30 – August 3 – Summer Music Boot Camp – $350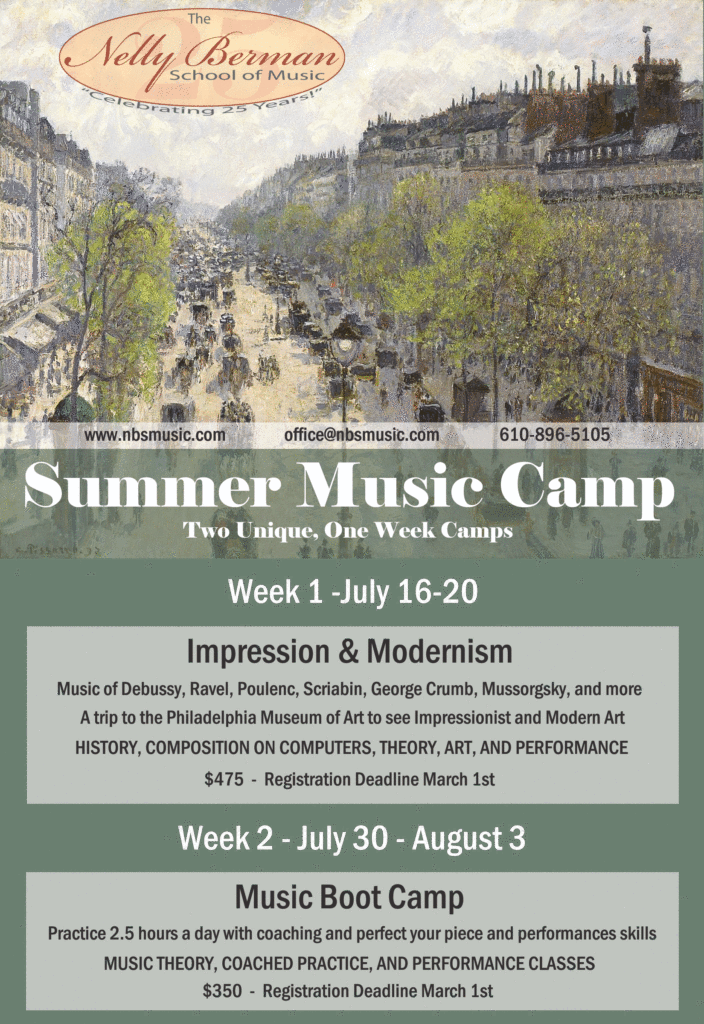 Sample Daily Schedules
Each camp has a Friday afternoon concerts presented by the campers for parents.
Impressionism and Modernism
For the morning classes, students will be separated into two age groups, ages 7-11 and 12-17.
8:45-9:00            Check-In
9:00-10:00         Music History/Theory
10:00-10:15        BREAK
10:15-11:15          Composition on Computers/Tablets
11:15-11:30          Ice Cream Break
11:30-12:00        Outside Activity
12:00-1:00          Lunch and Movie
1:00-2:00           Supervised Private Practice
2:00-2:15            Break
2:15-3:15             Performance Class
3:15-3:30            Break
3:30-4:00           Practice/Concert/Special Presentations/Art
Boot Camp
8:45 – 9:00              Check In
9:00 – 10:00           Practice Hour 1
10:00 – 10:15           Break
10:15 – 11:15            Practice Hour 2
11:15  – 12:00          Ice Cream and outside
12:00  – 1:00           Performance Class
1:00  – 2:00             Lunch and Movie
2:00  – 2:30            Practice Half Hour
2:30  – 3:30            Theory Class (Public Performance on Friday)
3:30  – 3:45             Get ready for pick up
________________________________________________________________________
Read Below about Summer 2017 and Previous Camps
Two Unique Weeks of Summer Camp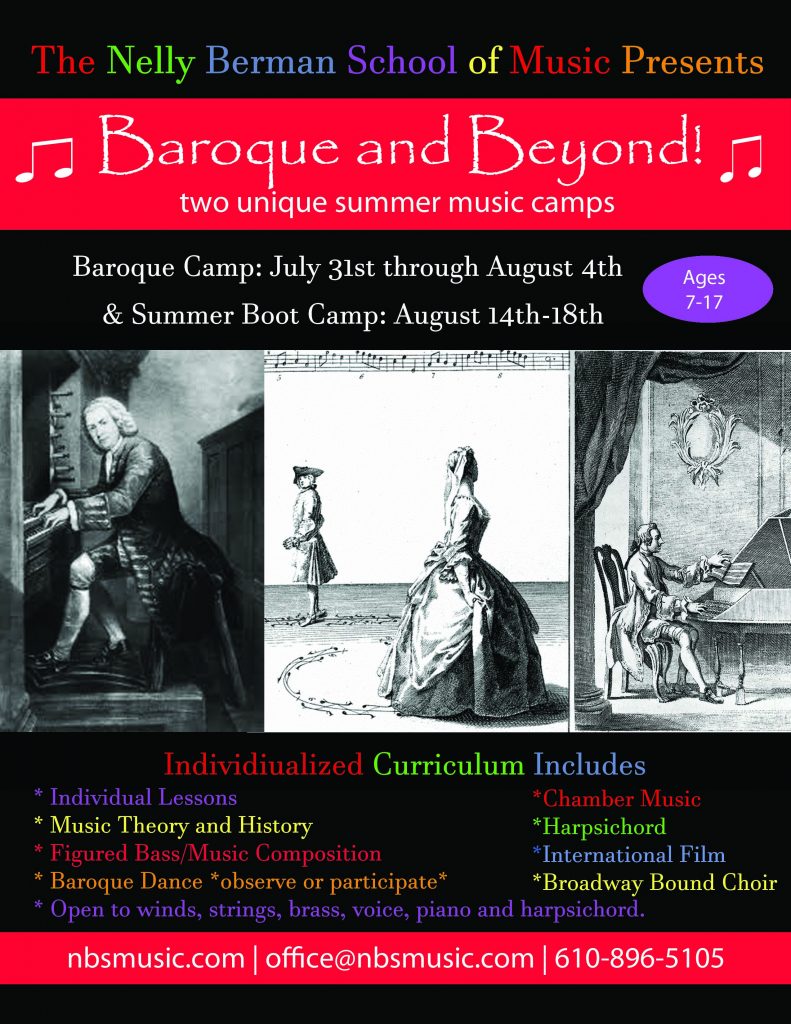 Week 1:
Baroque and Beyond
July 31st through August 4th
$475.00 for one week
Week 2:
Summer Music Boot Camp
August 14-18
$350 for one week
________________________________
 _____________________________
BAROQUE AND BEYOND CAMP   
featuring our replica of an 18th-century Harpsichord! 
Faculty concerts on baroque instruments including harpsichord and mandolin. 
Classes/Activities Offered
Individual Lessons (two, thirty-minute lessons included with NBS Faculty on harpsichord, piano, strings, winds, brass, or voice.) These are to help prepare the assigned piece for the end of the week parent concert.
Baroque History/Performance Practice
Composition using figured bass and improvisation
Master Class – daily opportunity to gain practice playing for your peers, coached by a faculty member
Capture the Flag, ice cream break, and other outside activities
Alexander Technique (proper body alignment to prevent injury while practicing or performing)
Lunch and Movies
Faculty Concerts on Harpsichord and Mandolin
Friday Camper Concert for Parents
Baroque Performance Practice 17th and 18th Century
The Nelly Berman School of Music offers a unique opportunity to young students, ages 7 to 17 to perform on a copy of an original 18th-century harpsichord. Students will learn specific technical skills as well as expressive skills to bypass the fact that the harpsichord does not allow a performer to play loud and soft such as the modern piano. This particular style helps pianists to understand how to perform Baroque music on the piano which does allow for loud and soft, and hear the left hand as an equal partner with the right hand as the Baroque music sounds on the harpsichord.
For strings, winds, brass and voice, students are going to be accompanied on the harpsichord by one of our faculty members, to experience a more authentic performance of 17th and 18th-century music.
While period instrument performance has made a great comeback in the past few decades, many performers still do not have the option to play on historically accurate instruments.  It is important for performers to have the knowledge to interpret Baroque music correctly.  In this 5 day course, students will have the chance to immerse themselves into the Baroque period and learn what traits and characteristics define this style. Students will learn about Dynamics, Articulations, Rhythm, Ornamentation, and Nationalistic traits that defined the period.
For instance, in the Baroque period, most music did not have the dynamic marks, phrase marks, and articulation marks that most composers use today. Performers were trained in the style to incorporate things such as terrace dynamics (suddenly louder or softer), "notes inegales" (over-dotting or notes written as equal values played with different lengths).  Ornamentation was something else that performers of the time would add to the music, using trills, mordents, appogiaturas, grace notes, passing tones, and cadenzas.
Students will learn how these traits and ornamentations varied from Germany to Italy and France as they perform music of the period with coaching from our experienced faculty members. They will also have the chance to learn figured bass – how to play a harmonization and melody with only a notated bass line.
At the end of the course, students will be able to take this knowledge to strengthen their performances of Baroque music on modern instruments.
Sample Schedule
8:45-4:00 
Pre-care and after-care available. (at an extra cost)
For the morning classes, students will be separated into two age groups, ages 7-11 and 12-17.   Individual lessons are scheduled after camp hours.
8:45-9:00  Check In
9:00-10:00  Baroque Music History
10:00-10:15 BREAK
10:15-11:15 Baroque Theory and Performance Practices with students performing on or with harpsichord
11:15-12:00 Ice Cream and Outside Activity
12:00-1:00 Lunch and Movie
1:00-2:00  Supervised Private Practice coached by Faculty
2:00-2:15 Break
2:15-3:15 Baroque Performance Class
3:15-3:30 Break
3:30-4:00 Baroque Presentations – 2 days of Alexander Technique and 2 days of Faculty Baroque Performances with Harpsichord and Mandolin.
Camp Concert – Friday at 2:15 PM – morning schedule is the same, followed by a 2:15 PM concert. 
Each one-week session of the camp will culminate in a concert on Friday featuring solo performances by the campers. A choice of pieces from the Baroque period will be assigned in advance. Students are free to choose their own teacher's suggestion if they prefer.
Past Camps
We hosted two camps during summer 2016.  Please see some photos and videos below.  The first camp "Exploring Romanticism" has a detailed description below and the second camp "Summer Music Boot Camp" drilled practice skills, performance experience, and theory fundamentals.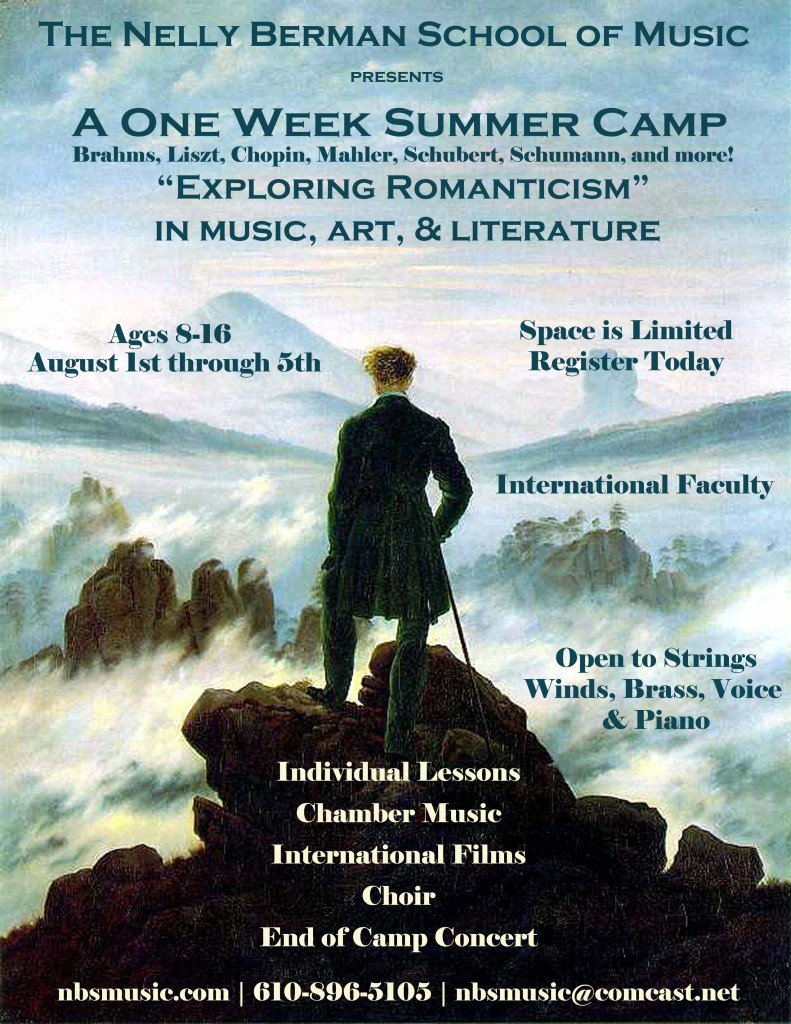 Camp Description:
The Romantic era was an exciting time in musical history. Composers produced music that was full of feeling and individuality. The poet William Wordsworth described writing of the era as poetry that should begin as "the spontaneous overflow of powerful feelings" and the composer and great symphonist, Gustav Mahler said of the music: "if a composer could say what he had to say in words, he would not compose music." This 5 day music camp explores romantic music, literature, and art. Students ages 8 through 16 (split into two age groups, 8-11 and 12-16) will investigate the Romantic era by playing solo and chamber music, learning about art through hands-on projects, reviewing romantic era literature, and asking the same questions about music-making that Romantic era musicians asked: How does the music move me? How do I express my feelings through the composition and expand upon compositional forms? How is music similar to or different from other artistic disciplines?
In each class, students will learn about the colorful history surrounding Romantic era life. The vivacious fire of the French Revolution –the development of the individual and breakdown of the preexisting socioeconomic hierarchical structures. The beginning of the industrial era. The glorification of nature, the absurd, beautiful and sad. The exploration of the emotions of glory, majesty, apprehension, fright, and awe. Students will learn to identify how each composer, artist, and writers expressed their individual feelings and thoughts.
By the end of the camp students will ask themselves how knowledge of the romantic era ideas can help them as performers and artists. Students will be able to play the music of Brahms, Chopin, Liszt, Schubert and Schumann with a new sense of historical context, to more fully understand what emotional and individualistic ideas shaped their compositions, and in turn share that with audiences. Prior to camp, age and level appropriate pieces will be assigned for each individual student, following an audition with the director. Students will see international movies and documentaries during lunch, learn to dance a Mazurka and Polonaise, analyze poems by Lord Byron, Sir William Blake and George Sand, learn excerpts from Lewis Carroll's Alice in Wonderland, draw in the style of Delacroix and Goya. Chamber Music is assigned one month in advance based on audition.
Pictures and video from summer 2015 camp: "Baroque and Beyond!" Created with flickr slideshow.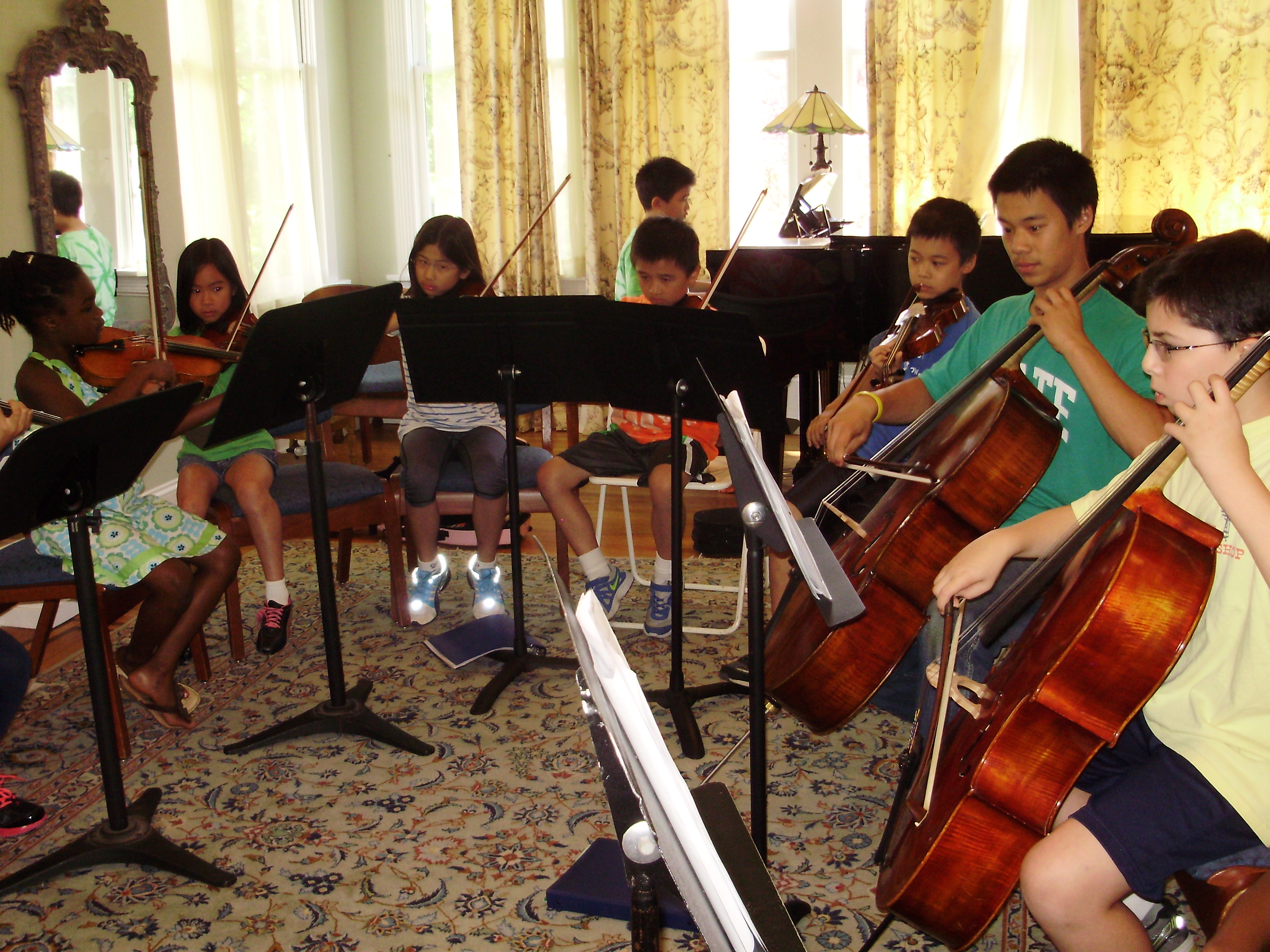 Whether you look to have an intensive music experience or a little mix of arts and music, this is the place for you. Our faculty and exquisite programs provide each student with a memorable experience that is proven in their progress. Our summer camps draw students from the Mainline, Haverford, Bryn Mawr, Philadelphia, Lower Merion Township, Delaware County, Bucks Count, Ardmore, Radnor, and as far as Virginia, North Carolina, and South Carolina. A Mainline Summer Music Camp. A Haverford Summer Music Camp.  A Bryn Mawr Summer Music Camp.